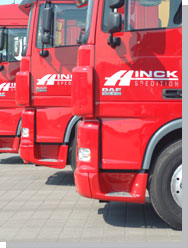 OUR SERVICES – as diverse as our clients!
We are transporting goods for our content customers since 26 years. Reliably, responsibly, and always using most up-to-date vehicles and equipment, we are shipping your goods throughout Europe.
We are taking your request seriously and offer transport solutions also for challenging cases.
Dry bulk, unit loads and silo goods, liquid goods and container transports - we take care of that for you. Moreover, we offer more services around the clock in our division HINCK SERVICES like vehicle repairs and diesel fuel sale.
How can we help you? Take us at our word.